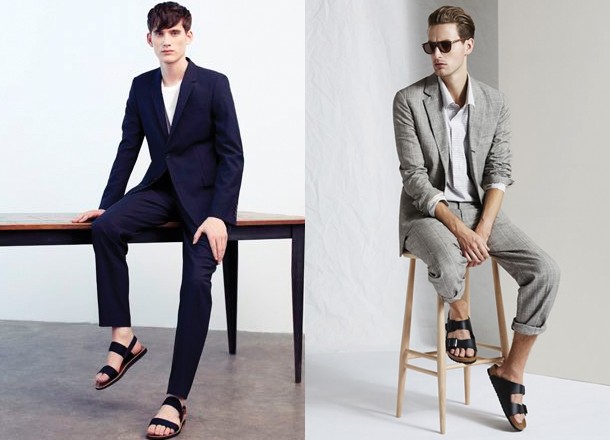 There was a season, beginning the 2000 era, in which men's fashion took a drastic turn and these new trends began to emerge in which societies began to link several cultures into one, creating a kind of revolution. We can remember how they dressed in pastel or white colors with linen pants without missing the sandals that matched all this outfit.
Undoubtedly, you could not stop seeing these men in a strange way, it was like a Indian beach style that we did not finish getting the exact form. With the passage of time, they were leaving this fashion behind and no longer left their feet in the air under any circumstances. They could even venture into shoes with a small opening in the instep, the so-called moccasins that are excellent to wear in the summer with shorts or shorts.
A new way to wear sandals in men
With the arrival of 2019 fashion is screaming that you again lose the fear of open shoes, and stop feeling that internal heat that usually appears with the arrival of summer . It's time to feel free with your shoes, venture to wear sandals again . Here we will give you some good tips so that you can use it in an excellent way and that it can combine perfectly with your wardrobe, what we will recommend is that you only use them in summer and when you are going to have a date with some friends or with the family.
These are some outfits that you can wear for this time of year and that will fit you perfectly:

The first one you can see a light colored short sleeve shirt, the designer is Adolfo Rodriguez. This you have to combine it with some shorts or shorts, try to make the fabric is linen or a cotton very similar to this, for example: Loreak Mendian , it is comfortable the size goes according to your body and the color has to be something beige or brown so that it can match the color of your shirt. The interesting part and which we are talking about, the sandals that can go very well with this outfit, Birkenstock , Arizona sandals , they have a casual cut with leather on the sides with metal buckles.
The second outfit you can see is of a Roman style, you can see this model in old movies as "Troy." All the people who lived in this era used this style of sandals, now you can represent them and wear them with a more modern style . This is composed of a plaid dress shirt with a flowered short that can be perfect for going to the beach or for a walk on the pier, this is usually shorter than the previous one because the sandals for this outfit are higher . These have a closure on the heel part and are a little higher than it usually would be.
This third outfit can be a little lighter than the other two, you will even look a little sportier and not so casual. We can use this if you are going to leave the beach with your friends or take a walk in the park, the truth is that it is not complicated, the shirt is anyone with a print of your choice, you can choose a light color to match your shorts, in this case, you can choose them in a stronger and more decisive color such as red or yellow, Sisley, has a few prints that would be perfect for the look you are looking for. Then come the sandals , they are leather Bottega Veneta,They are a little expensive if you are looking for comfort at low cost, they are around 490 euros, but if you are willing to pay them to give you the luxury you deserve, welcome, anyway, you can take with this outfit with the You feel comfortable and have the same colors.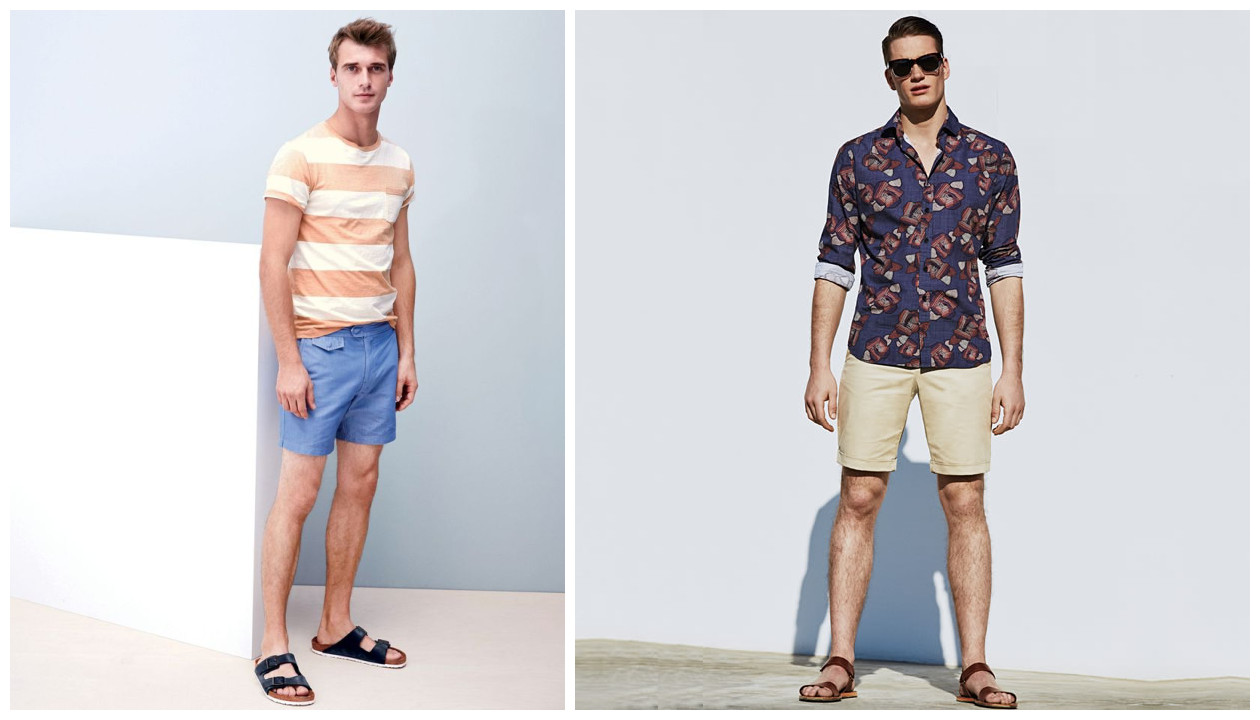 After seeing these possibilities, we must say, do not try to go out so often with your beach sandals everywhere, try to give more personality to your outfit, when you go to the beach with your friends for several days maybe it could be a good option , but when you want to go to a more casual place such as: having an ice cream on a Sunday afternoon, we don't think it's the most appropriate outfit.
If the prices seem a little expensive, there will always be a designer brand that has some very similar and with quite affordable costs. Do not give up on the first try, and if you like the style you can keep looking for something that makes you comfortable with yourself.
Where to buy sandals for men
There are many options to buy sandals. From the classic Zara fashion stores, Mango, etc. that offer very attractive collections in spring / summer seasons, to other small brands.