Know the different types of tie knots , such as the Windsor knot , the simple knot and the double knot . You can not imagine how many different ways there are to tie the tie. In this article we want to comment on some of them.
What is a good suit without the perfect tie?  Everyone has ever had to wear a tie, especially to go to the office. Other people do not use it so much, only for some sporadic event, but do you do it correctly?
The knot of the tie brings personality to the wearer, as well as a personal touch of style. Let's go there!
Simple or American knot
This is the recommended knot for those who start with the tie, it is a simple knot that stays elegant. This knot looks good with wide ties and suits tall men better. It is the most classic knot and most used for its simplicity and versatility to combine with all types of shirts, such as those made in Haberdashers.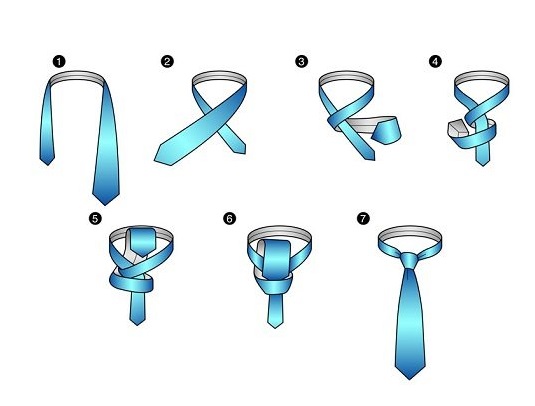 Double knot
This knot has a compact shape, it is a more complex knot than the simple one and you have to have some practice to know how to do it. Long-necked shirts are highly recommended. It is important that the tie is made of soft fabric, and it should not be too short.
Triple knot
The champion between tie knots. It is a very universal knot and very popular all over the world. Such popularity is because it goes well almost always with all kinds of ties, whether fat or thin.
Windsor Knot
Our favorite! One of the most used and the one that has more history that we will comment.
The Windsor knot , a symmetrical and wide tie knot that bears the name of the duke. And it is the Duke of Windsor who gives the name to this knot. The loops used by the English king were very tight and bulky, but not because he used the knot that later would be called Windsor. In fact, the duke made an American knot to his ties, whose volume was due to the lining with which he ordered to make this accessory. However, due to this mistake, a new way of knotting the tie was discovered with a result similar to that of the monarch, which was called Windsor.
The Windsor knot,  more serious than the American, is preferable to wear it and with thin ties, we can also use it with fat ties, but we can have some complication.
The Duke achieved an innovative look in his tie knot by making a Four in Hand knot with ties made especially wide and thick. The Windsor knot was invented by the public as a way to imitate the style of the knot used by Duke. There are several derivatives of the Windsor knot to which everyone refers with the same name.
Eldredge knot
We start already with complex knots only suitable for tie experts. The "Eldredge" is a unique knot and a little complex that is done in 15 steps. Unlike the vast majority, it is knotted with the help of the narrow part of the tie. We recommend that you first try to do it with an old tie, in case it goes wrong.
There is no doubt that this knot is unique in its class. Unlike the vast majority of tie knots, the narrow part is used to create it, resulting in a cascading braid effect similar to a fish tail. It is a very elegant knot that will make a great impression on your boss.
Pratt Knot
The Pratt knot is a versatile, elegant and medium-sized knot. We have a very suitable knot for any shirt and ties a little wider and of light fabric or medium thickness. You will not go wrong using this elegant knot for formal meetings, as it is very discreet. Jerry Pratt, the creator of this knot worked at the US Chamber of Commerce for 30 years. During all this time. he knotted his tie every day in his own way to differentiate himself from the others, until one day in 1989, Don Shelby "gave him away" and divulged his secret on television. Curious!
Knot of the Trinity
This beautiful knot has a three-way symmetry and brings an air to the Celtic Triquetra. The design converges in a central point, producing a very striking effect. It may seem complicated at first glance, but the steps are actually quite simple.
Van Wijk Knot
It has a knot-like effect Prince Albert style, by adding a third turn to the narrow end of the tie. If it knots well, this elongated and narrow knot creates a very aesthetic and elegant cylindrical effect. A very modern knot that looks better with light colors. It is best suited for narrow neck shirts and duo with a vest.